AntiMap HTML5 / ProcessingJS Simple Demo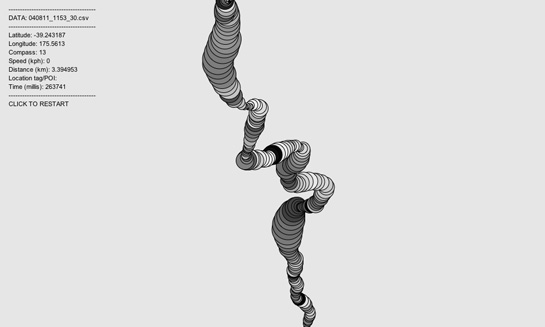 AntiMap Simple is a HTML5/ProcessingJS demo that visualises data from the AntiMap Log mobile application. Circles are used to visualise the plotted data. The color of each circle is mapped to the compass data (0˚ = black, 360˚ = white), and the size of each circle is mapped to the speed data (bigger circles = faster). 
The same data used in this demo, was used in the AntiMap Video snowboarding application. You can see from the visualisation, during heelside turns (left) the colours are a lot whiter/brighter than toeside turns (right). The sharper/more obvious colour changes indicate either sudden turns or spins (eg. the few black rings right in the centre).
Version & download links: 
Click the links below for demos and source code.
Zip package below (download source) includes HTML/Javascript & sample data (040811_1153_30.csv).